CEO MESSAGE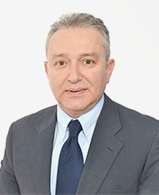 In the early 2000, I was inspired to find solution to some challenging problems affecting almost every business company related to road safety and unsafe drivers, and lack of compliance to regulations and transport-operation transparency.
Some of these worldwide challenges include making our roads safer by focusing on the driver and his behavior.   With these challenges on mind and the eagerness to meet our vision, we were able to build a team of dedicated and highly-professional engineers who have helped us develop what has become one of the best Fleet Management and Road Safety solutions found today.   This is what FMS Tech. is all about: Dedication, Innovation and Creativity.
We started in 2000 by helping a few multinational companies improve their road safety standards using basic tools that we developed using the available technologies at the time. Since then we helped many of our clients save millions of dollars by improving their fleet utilization and information transparency, securing their asset, and change driver behavior.
Today, through our dedicated efforts and investment in our R&D in the past 10 years, FMS Technology Group has become one of the leading innovators of In-Vehicle Monitoring Systems (IVMS), Vehicle Telematics, Connected Vehicle, Machine-2-Machine, Asset and Fleet Management, and Smart City Transport and Mobility solutions.
We are active and heavily involved in building solutions for Smart City and Connected Vehicles; because we believe that each and everyone has a role to play today, for a better tomorrow.
Our engineers strive to innovate new technologies to help us enhance the experience of our customers and progress in their daily business, improve the way we and others drive our personal and commercial vehicles, reduce carbon dioxide and protect the environment, minimize unnecessary expenditures, and last but not the least, save lives.
We meet our goals by delivering unmatched and customized solutions to our clients. We think ahead by working closely with the local authorities and scientific and research centers in order to make the roads a better place to drive on. We value our clients who are the source of our innovation, our channel partners who help us expand globally, and our professional staff who help us transform our vision into reality.
Our company growth for the past 5 years is the biggest evidence to our success and values that we deliver to our customers. We are focused on win-win situations for all our clients, channel partners, employees, and stakeholders, while we profoundly dedicate to always introduce new innovations and technologies to the market, especially the fleet management and telematics industry.
Bassam Alkassar
Founder & Chief Executive Officer
Training Sessions Administered
Latest News
Tabani Trading International (Pvt) Ltd. launching its very first tracking company by the name of TTI Tracker and are pleased to announce the signing of an agreement of "Exclusive Distribution" with FMS Tech.

learn more

→

Did you know that FMS-Tech can help decrease your fleet's CO2 emissions? By showing administrators and managers a complete map of their CO2 foot print including the vehicles emitting the most CO2 and...

learn more

→
What Makes us Different?
Hardware and Software Integration

– Developed and working together to provide superior experience for the client, easy and customized updates easily applied to the software and sent to the devices.
Unparalleled customer support – As mentioned by clients, the customer and technical support provided by FMS-Tech is accurate and reliable to ensure issues are quickly and easily addressed.
User Friendly software – Developed especially for ease of use, the FMS-Tech applications and software are easy to navigate and utilize by all users regardless of the experience.
Wide range of solutions – FMS-Tech provides many solutions to be utilized across many industries where as other providers only provide a piece of the puzzle and need to find other products to fill the gaps.
Product Integrity – Providing products certified for many applications including governmental and the Oil & Gas industry since 2013 ensures reliable and high quality products